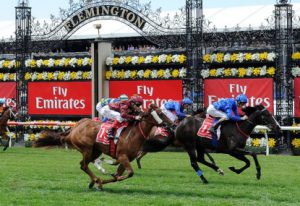 Three quarters of the Australians surveyed said they do not endorse horse racing, a report released today on PLOS ONE showed
Most of those listed as racing fans said they would continue to compete or play on the track if the whip was banned. About one in eight racing fans said that they would no longer watch or gamble if the rules did not allow a horse to be whipped for reasons other than racer protection.
The research used anonymous data from a newly approved independent sample, but not operated by RSPCA Australia. Out of 1,533 respondents from around the world, only 25% (113 women and 271 men) favor horse riding.
The more respondents asked to enter or play in races, the more inclined they were to believe that horses should be whipped during a normal race. This is undoubtedly a reflection of the belief that whipped horses are more likely to win races, but this is contradictory to experimental research.
As a result, the study looked at 843 people listed in the sample as racing enthusiasts-those who watch or bet on horseback riding at least once or twice a year.
Just 13 percent (44 women and 63 men) of those listed as racing fans in the survey said they would stop watching races and bet on them if they were beaten.
It is important to note that these respondents are not especially frequent in the lowest income bracket (defined as those earning less than AU$20,000 a year). The proportion of answers to No one in this bracket is slightly higher than for those with more than 150,000 AUDs a year.
The use of a whip is increasingly used as a control assist and thus a way of enhancing racer safety. However, the data refers to the use of the whip for crashes, which specifically impacts the welfare of passengers.
Indeed, in 1982, Norway introduced whip-free riding, not because the whip was considered a bad look at the racing industry at the time, but because as a means of cruelty, national laws include spanking.