The corner of the racetrack We arrived at the Flemington Racecourse on the day of the Melbourne Cup on 3 November and sensed the festive mood that went beyond horse racing. Entertainment activities with families, relatives, friends and, in particular, the fashion community of festival participants make the Melbourne Cup Carnival appealing to all.
Horse racing is about ten races away. The first round begins at 10.20 a.m. and the main event takes place at 3 p.m. The last race finished at 5:15 a.m. on the day. During this time, the crowd watches the races together, eats together and chats between the races.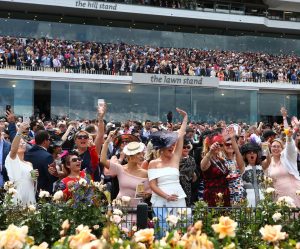 Horse racing has become a major industry in Australia and draws a lot of people to bet
The betting stalls on the racecourse are still crowded. In the meantime, every betting facility in Australia is running at full capacity throughout the horse racing season. Since it's not a plain red and black game to gamble on horse racing, but it's also a favorite kangaroo pastime.
While you don't want to gamble, but in front of the festive environment, you can even spend a couple of dollars on the joy of the Melbourne Cup season.
Flemington's guests and watchers were dressed very respectfully as if they were off to a wonderful gathering. Men are dandy, and women compete to show the most exquisite outfits, the most sexy clothes. Women in particular often wear caps, bow ties, roses or decorative feathers on their heads.
Seeing fashion from the spectators is also a special cultural entertainment aspect of the Melbourne Cup Carnival. The Flemington Fashion Festival during the Melbourne Cup season is considered to be the biggest outdoor fashion show in the world.
The Melbourne Cup Carnival is a genuinely memorable and unforgettable experience with a visit to Melbourne-the most popular city for festivals and sporting cultural activities in Australia.